Whether you are on the beach, by the pool, camping, or picnicking with friends, or reading in your backyard, this air sofa pouch is a perfect way to relax! This sofa is extremely lightweight portable and can be inflated with no pump, which makes it easy to take with you anywhere and relax anywhere.
Specifications
Size

Material
Layer
Printing

83.07"*27.56"
(211x70cm)

Outside Layer:75g 100D Polyester
Inner Layer: PE Plastic Film

Double

Digital Printing
Details
Made of high-quality polyester and high strength PE inner layer, our inflatable lazy sofa can not only be customized with any color and graphics you like, but it can also withstand 2-3 people (up to 200kg in total), but the air-filled should not be over 80%, and the sofa can only be used in flat and open space, please be noted.

Inflating this sofa is quite easy, you don't even need a pump. Just need to unfold it, run several steps against the wind to fill it with air, then roll the opening (which is sewn with PP plastic sheet)up and buckle up. You can also use a fan/ hair/leaf blower to fill it up if there is no wind, or the space is not big enough.
If you need a custom bag to match the air sofa, you can purchase it at Air Sofa Bag.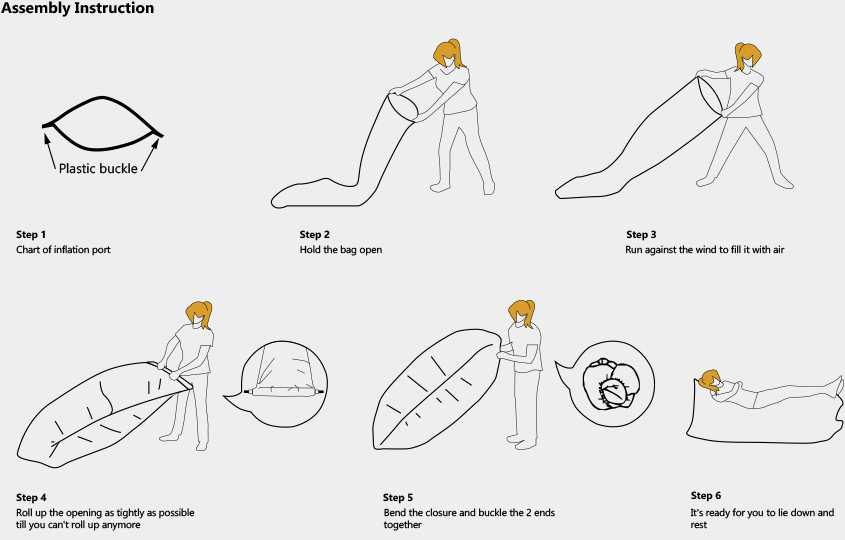 Features
Easy & fast inflating - It can be inflated and set up in minutes by 1 to 2 people, no extra tool is required.
Practical - It is suitable for both indoor & outdoor use, and is perfect for camping, outdoor BBQs, swimming at the beach or by the pool, backyard fun, and many more.
Safe and stable - This inflatable sofa provides stability for the whole body even in strong wind. It will instantly take the shape of your body to relax comfortably on it and enjoy a good sleep.
Highly portable - It is extremely lightweight and easy to hold. You can simply pack it up, and put it in your backpack, luggage, or car.
Practical
Highly portable
Easy & fast inflating
Safe and stable