Compared to a traditional backdrop, this backdrop system combines digital signage and textile printing to offer a more complete and novel exhibit. It can freely stand in any place in your show room, in a lobby, or open space. It is great for grabbing attention at exhibitions and events and can also be used for displays in showrooms and retail environments too.
Specifications
Display Size

Material
Layer
Printing

115.3''x89.8''
(292.9x228cm)

240g Tension Fabric

Double(Single- or double-sided printed)

Dye Sublimation
Details
This backdrop kit includes a 10ft straight backdrop, a portable aluminium frame, a shelving rack, and a pillowcase fabric graphic. The shelving rack can be placed in a variety of positions along with the frame, as the top clips snap in place to fit the sloped edge as you adjust. It consists of 3 shelves and a bracket that holds a 42 inches (or within 42inches) monitor for digital signage and promotion purposes. The shelves are sturdy enough that you can show a variety of products, giveaways, and literature without fear of tipping or breaking.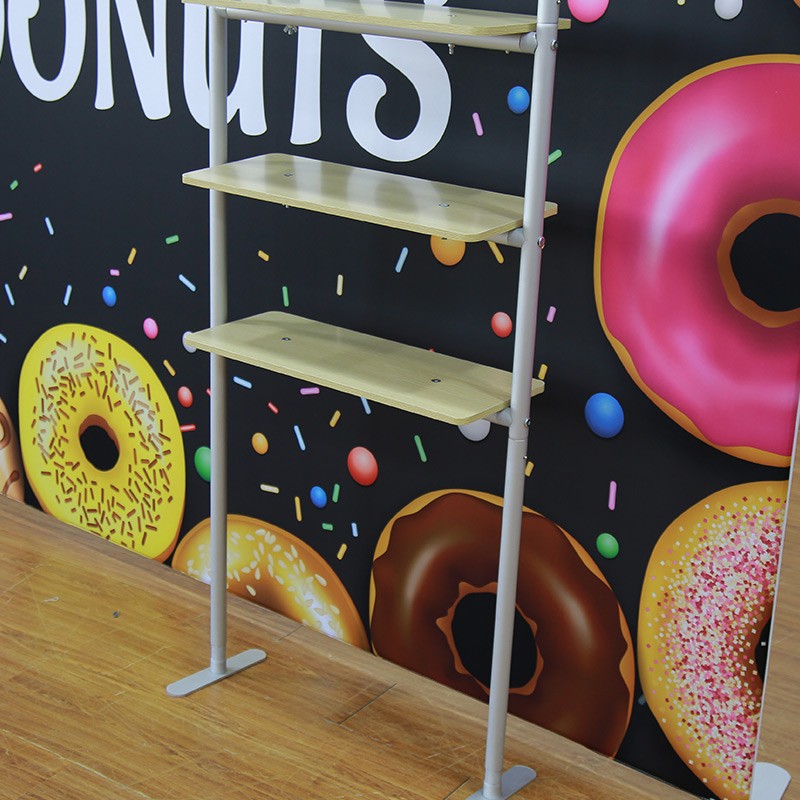 Features
Multifunctional - The monitor bracket and wooden shelves not only make this backdrop special in visual, they also help express your message from more dimensions.
Easy assembly - The installation is easy with the pillowcase style cover and an aluminium tube frame.
High-resolution graphic - Quality printing method is adopted to ensure vivid and vibrant printing effects.
Portable - The circular light-weight aluminium tube frame can be easily broken down into a compact size. And each kit would come with carrying bags for easy storage and transport.
Multifunctional
Portable
Easy assembly